Who knew there was so much going on in Central Arkansas?
Comprehensive list of some of the most popular attractions and events in Arkansas
1. THE CLINTON PRESIDENTIAL CENTER.
How can you move to Metro Little Rock and not check out the notable center named for our 42nd president? The 148,000-square-foot William J. Clinton Presidential Center & Park encompasses a museum, presidential archives and educational and research facilities. Must-see permanent exhibits include full-scale replicas of The Oval Office and the Cabinet Room, decorated exactly the way they were during Clinton's time in office. A steady stream of visiting exhibits also comes through the center each year. Visit on Aug. 19 and get free admission in honor of President Clinton's birthday! | (501) 374-4242, ClintonPresidentialCenter.org
2. BIG DAM BRIDGE


The nation's longest pedestrian and bicycle bridge built specifically for that purpose, the Big Dam Bridge is a favorite among Metro Little Rock residents. Located over Murray Lock & Dam, the bridge has a 14-foot-wide deck that extends 4,226 linear feet across the Arkansas River. Locals love to walk, run or ride their bikes over the bridge and along the 17 miles of scenic Arkansas River Trail that runs on either side. | BigDamBridge.com
3. RAZORBACK FOOTBALL
The Razorbacks make the trip to Little Rock twice a season for games at War Memorial Stadium. Both the tailgating and the football are often memorable – like the Hogs' 21-20 victory over LSU in 2002 that will forever be known as the "Miracle on Markham." Being a part of a packed house at War Memorial in the fall is simply hard to beat. | ArkansasRazorbacks.com
4. ARKANSAS TRAVELERS BASEBALL GAMES
Like beer and brats? We do too. You can get this, plus take in a great baseball game at Dickey-Stephens Park in North Little Rock. Home to the Arkansas Travelers, the Double-A affiliate of the Los Angeles Angels, this $38 million facility boasts wide-open concourses, comfortable seating, luxury boxes for rent, a party deck, a beer garden and a restaurant. The Travelers have been playing ball since 1901, giving them one of the longest running histories of any minor league franchise. Fun giveaway nights featuring floppy hats, kids' gloves and T-shirts are scheduled throughout the season from April through August. | Travs.com
5. LOCO ROPES
Zip lining has propelled toward popularity over the past few years, and Arkansas has several locations that offer the high-flying adventures. Loco Ropes at Ozark Folk Center State Park in Mountain View is worth the drive. Choose from a handful of zip lining options that vary in intensity, height and length. Don't worry if you're afraid of heights; cutting-edge equipment and harnesses ensure your safety. | (888) 669-6717, LocoRopes.com (One-way travel time - 2 hours)
6. THE BUFFALO RIVER
Outdoor enthusiasts, you're going to love this! Located just off Scenic Byway 7 near the town of Jasper and approximately 100 miles from Little Rock, the Buffalo National River winds through the Arkansas Ozarks, flowing into small rapids and calm pools before emptying into the White River. The Buffalo's beauty and mild manner make it a perfect destination for canoeing, floating and fishing, and the 95,000 acres of public land surrounding the river offer campgrounds and cabins, as well as springs, caves, waterfalls, trails and more. | (870) 439-2502, www.NPS.gov/Buff (One-way travel time - 2 hours)
7. ARKANSAS REPERTORY THEATRE
Known to locals as "The Rep," this is the only professional, nonprofit theater of its size within 300 miles of Little Rock, including Memphis, Nashville and New Orleans. The 2014 season includes "Red" (Oct. 23-Nov. 10, 2013), "Because of Winn Dixie" (Dec. 4-Dec. 29, 2013), "Les Miserables" (March 5-April 6, 2014), "The Second City" (April 29-May 11, 2014), and more. Locals snatch up season tickets so they never miss a show. | (501) 378-0405, TheRep.org
8. LITTLE ROCK MARATHON
Each March, 12,000-plus participants from across the region, state and beyond flock to downtown Little Rock to take part in this annual athletic competition. The event includes more than the 26.2-mile trek, but also a half marathon, 10K, 5K, kids marathon, pasta party and more. This year's marathon has a comic book theme called "Epic" and will take place March 2, 2014. Other related marathon event dates and times vary. | LittleRockMarathon.com
9. CHILDREN'S LIBRARY
The new $12 million Hillary Rodham Clinton Children's Library & Learning Center is a state-of-the-art facility complete with a computer lab with 14 computers, teaching kitchen, large activity area, individual and group study rooms, a 165-seat theater, and community room — in addition to a collection of more than 21,000 books, DVDs, and CDs. | CALS.Lib.AR.us
10. QUAPAW QUARTER
History buffs, this one's for you. Located in downtown Little Rock, the Quapaw Quarter contains Little Rock's most historic homes and mansions, some predating the Civil War and many on the National Register of Historic Places. Drive or stroll through the neighborhood, or take advantage of the Quapaw Quarter Association's annual Tour of Homes. | (501) 371-0075, Quapaw.com
11. OAKLAWN RACING & GAMING
Some of the world's best Thoroughbreds have raced at Oaklawn, including Smarty Jones, the 2004 winner of both the Kentucky Derby and Preakness Stakes. Oaklawn's live season runs annually from January through April and simulcast racing is broadcast year-round. In addition, the park has recently expanded to allow forms of electronic gambling, including video poker and other games of skill. And don't leave the park without gobbling up one of their popular corned beef sandwiches. | (800) OAKLAWN, Oaklawn.com (One-way travel time – 1 hour.)
12. FARMERS MARKETS 


Over the past few years, farmers markets have sprouted up all over the state, and they're especially plentiful in Metro Little Rock. Local markets sell everything from farm-fresh eggs, grain-fed beef and organic produce to goats' milk soap and heirloom plants and seeds. For more information and a helpful list of farmers markets in the area, Arkansas.com/Dining/Farmers-Markets.
13. ARKANSAS LITERARY FESTIVAL
Held annually, this event features panels, events, performances, workshops and appearances and readings by celebrated authors such as David Sedaris, Garrison Keillor and Arkansan Charlaine Harris ("True Blood"). This year's event will be held April 24-27, 2014 in the downtowns of Little Rock and North Little Rock. | (501) 918-3029, ArkansasLiteraryFestival.org
14. SHAKESPEARE THEATRE
Located in Conway, about 30 minutes north of Little Rock, the Arkansas Shakespeare Theatre produces a selection of the Bard's plays, along with other productions, in its summer festival each June. | ArkShakes.com
15. ARKANSAS ARTS CENTER
The AAC is known for one of the world's most unique collections of works on paper, including sheets by Cézanne, van Gogh, Pollock, O'Keeffe, Saar, Rembrandt and more. The center also houses an art school, children's theater, restaurant and gift shop specializing in works made by regional artists. Admission is free, though a fee may be charged for special exhibitions. | Open 10 a.m.-5 p.m. Tuesday-Saturday and 11 a.m.-5 p.m. Sunday. 501 E. Ninth St., Little Rock, (501) 372-4000, ArkArts.com
16. MOVIES IN THE PARK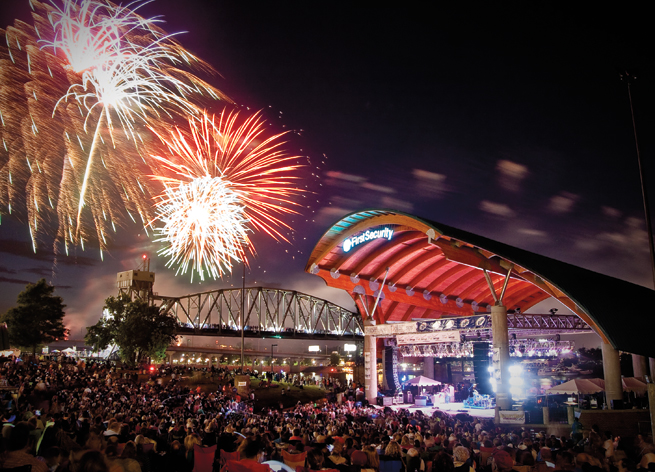 A free outdoor movie series in Little Rock's River Market, Movies in the Park is one of our favorite summer activities. Movies begin at sundown each Wednesday in June and July and are held in the Riverfest Amphitheatre on the banks of the Arkansas River. Picnics are encouraged and alcohol is allowed, but glass containers are prohibited. Concessions are also available for purchase. Don't forget a blanket and some bug spray! | MoviesInTheParkLR.net
17. FIRST THURSDAYS IN HILLCREST
One of Little Rock's most unique neighborhoods, historic Hillcrest (located on Kavanaugh Boulevard) is home to a plethora of charming boutiques and shops. Beginning at 5:30 p.m. on the first Thursday of each month, Hillcrest merchants and restaurants stay open late and offer sales, entertainment, nibbles and drinks. It's a great way to meet the natives and get some great deals! | (501) 666-3600, HillcrestMerchants.net
18. LITTLE ROCK FILM FESTIVAL
The film fest is not to be missed. Founded by Emmy- and DGA-nominated filmmakers Brent and Craig Renaud (Page X), the five-day event is held annually in the downtowns of Little Rock and North Little Rock. Hailed by Austin's Paste Magazine as "potentially one of the best fests in the country," the LRFF draws more than 25,000 attendees and features more than 100 films from across the world, as well as workshops, panels and parties. Visit the website for 2014 festival info. |LittleRockFilmFestival.org
19. RIVERFEST
This is a huge visual and performing arts celebration held annually over Memorial Day weekend in downtown Little Rock. Acts like Miranda Lambert, Al Green, Jason Aldean, Ludacris, Pat Benatar, Blues Traveler, Brad Paisley, Heart, Everclear and many more have made this the most anticipated festival in Arkansas each year. 
| RiverfestArkansas.com.
20. CELEBRITY ATTRACTIONS
This touring company brings Broadway performances to Metro Little Rock every year. The 2013-14 season includes favorites like "Wicked" (Sept. 24-Oct. 6, 2013) and "Hair" (Feb. 18-20, 2014). All performances are held at Robinson Center Music Hall in downtown Little Rock at Markham and Broadway. | (501) 244-8800, CelebrityAttractions.com
21. HEIFER INTERNATIONAL HEADQUARTERS 

Tour the nonprofit charity's LEED Platinum building that features a 30,000-gallon rainwater collection tower, among other things. Heifer Village on the Heifer International campus showcases inspiring, interactive exhibits that describe how individuals can help end hunger, poverty and environmental problems. Also, check out Shop@Heifer to purchase ethically sourced and artisan products from around the world. | (800) 422-0474, Heifer.org
22. WINE COUNTRY
About a half-dozen wineries near where the Arkansas River meanders between the Ozark and Ouachita Mountains offer tastings, tours and events. Wine-making began there in the 1880s, making Arkansas the South's oldest wine-producing state. Two European families started it all after noting the region's similarities in climate and soil with that of Switzerland and Germany's wine-making regions. | Arkansas.com/Things-To-Do/Wineries-Micro-Breweries (One-way travel time – 2 hours)
23. PINNACLE MOUNTAIN
Eight hiking trails ranging from easy to strenuous wind their way around Pinnacle Mountain, with two leading to the summit. Those who reach the 1,011-foot peak are rewarded with views of the Arkansas River, downtown Little Rock and Lake Maumelle. The park also features two mountain bike trails – the 0.70-mile Rabbit Ridge Trail and the 7.4-mile Jackfork Trail – and two barrier-free trails, the half-mile paved Kingfisher Trail and .60-mile paved Arkansas Trail in the Arkansas Arboretum. | ArkansasStateParks.com/PinnacleMountain
24. FOOD TRUCK FESTIVAL
In October, about 5,000 foodies gather on Main Street in downtown Little Rock to sample delicious fare from local food truck vendors. Street performers play, crafts are sold and Heifer provides family activities to boot. If you miss it, try Food Truck Fridays, held seasonally. | DowntownLR.com
25. ARKANSAS SYMPHONY ORCHESTRA
Led by Conductor Philip Mann, the Arkansas Symphony Orchestra presents a season of beautiful masterworks, pops and chamber concerts. Don't miss the "Bohemian Rhapsody" performance on Jan. 25-26, 2014 at Robinson Center Music Hall. Can't get enough of the symphony? Good news: Season subscribers enjoy the best seats in the house and significant discounts over normal single-ticket prices. | (501) 666-1761, ArkansasSymphony.org
26. CRYSTAL BRIDGES MUSEUM OF AMERICAN ART
As soon as you get settled in, this is a trip you must take. The recently opened Crystal Bridges Museum of American Art houses "one of the most dazzling and glorious collections of American art anywhere," says Don Bacigalupi, the museum's executive director. Envisioned by Walmart heiress Alice Walton and named for nearby Crystal Spring, the museum's architecture is inspired by its picturesque surroundings and aimed at enhancing and protecting the natural beauty of the site. Works by Andy Warhol, Norman Rockwell, Roy Lichtenstein, John Singer Sargent and more grace the walls of the the eight individually designed pavilions. | (479) 418-5700, CrystalBridges.org (One-way travel time – 3.5 hours)
Source: Little Rock Soree